Michael Zehe hands over role as CEO on 12-31-2023
A turning point at ROWE: founder Michael Zehe will hand over responsibility as CEO of ROWE MINERALÖLWERK GMBH and ROWE Holding GmbH to his daughter and joint CEO Dr. Alexandra Kohlmann on 31 December 2023.

Michael Zehe, who founded the company in Flörsheim-Dalsheim in 1995, will continue to be available to the company in a consulting role as part of the Advisory Council and will concentrate within the ROWE group on the future-oriented fields of cleaning municipal and industrial waste water.

With Dr. Alexandra Kohlmann, the second generation will now finally take over responsibility for the Worms-based family company. She has already been part of the Board of Management since 2016, and since 2018 she has also been joint CEO of ROWE MINERALÖLWERK GMBH and ROWE Holding GmbH alongside her father.

ROWE will also continue the proven principle of joint CEOs in future. Stefan Wermter, who has so far been responsible for operations on the Board of Management, will be appointed to joint CEO of ROWE MINERALÖLWERK GMBH with effect from 1 January 2024.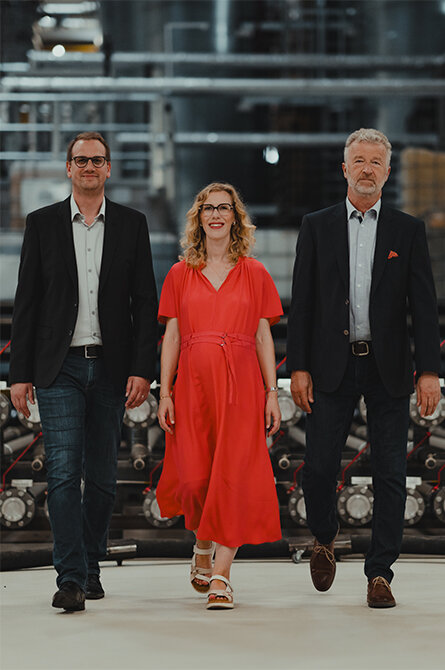 What a development. When I started out in 1995 in a small workshop with only two mixing vessels, I had no idea how big ROWE would become one day. Today, we sell our products in over 80 countries worldwide and our plant in Worms sets new standards for innovation and sustaina-bility. After almost 29 years, I will now hand over responsibility for the company on 1 January. Alexandra will then be responsible for shaping the future – and that makes me both proud and happy as a father.
What my father has achieved and built up here is really quite remarkable. The fact that he is now actively organising the transition to the next generation and thus securing the future of ROWE as a family company is a sign of strength and earns great respect. I would like to build on this and make our company even more successful. ROWE's know-how and our products can help to make genuine progress possible in many new areas.
I am very much looking forward to what lies ahead – and am very grateful for the trust placed in me. We will work hard in the future on developing many other business areas for ROWE. Our lubricants and coolants are needed. Not just in cars, but in industry and wherever there is movement and heat
WOULD YOU LIKE TO FIND OUT MORE?
Dr. Alexandra Kohlmann and Michael Zehe have produced a personal video for you.